OVERTURE 3D CA
Regular price
Sale price
CDN$30.99
Unit price
per
Sale
Sold out
INTRODUCTION
Abrasion of the brass nozzle happens quite often when printing CoPA material. A wear-resistant nozzle, such as hardened steel and ruby nozzle, is highly recommended. 
If this nylon material is used as the support material for itself, please remove the support structure before excessive moisture absorption. Otherwise the support structure can be permanently bonded to the model.
After the printing process, it is recommended to anneal the model in the oven at 70°C for 2 hours.
SPECIFICATIONS

  Recommended Extrusion/Nozzle Temp: 250°C - 270°C (4 82℉~518℉)

  Heated Bed Temp: 25°C - 50°C (77 ℉~ 122℉)

  Filaments Diameter and Accuracy: 1.75 mm +/- 0.05

  Filaments Net Weight: 1 kg (2.2 lbs)

  Recommended Printing Conditions: Cooling Fan: Off

  Printing Speed: 30~50(mm/s)

  Raft Separation Distance: 0.1~0.2(mm)

  Retraction Distance: 3~6 mm

  Packaging Included:

  1 × spool of Nylon filament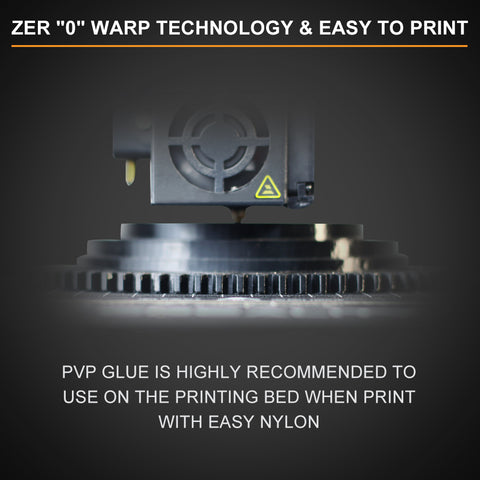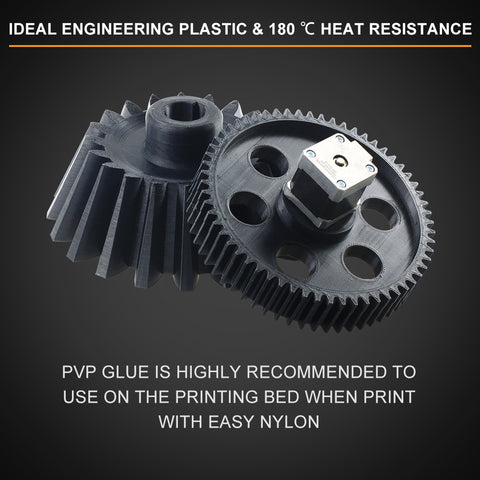 [ Odorless &Zero Warping ]-- This CoPA filament combines excellent strength, toughness, and heat resistance of up to 180˚C. It delivers excellent printing quality with no Order or warpage during printing. Complete drying for 24 hours before vacuum aluminum foil packaging, which can effectively protect the Nylon filament from moisture. As the Nylon material is sensitive to moisture, please remember to put it back into the re-sealable bag timely after using.
[ High Stability and Durability ]-- Our OVERTURE Nylon Roll is based on a copolymer of Nylon 6 and Nylon 6.6, a strong and tough thermoplastic polymer. Great for creating parts which needs to be strong and durable. These Nylon filaments are excellent choice for engineering production or prototyping. PVA glue is always required for better adhesion
[ More Humanized Design & Easy to Use

 

]

 

Grid layout on the surface for easy resizing; with length/ weight gauge and viewing hole on the reel so that you can easily figure out the remaining filaments; more filaments clip holes for fixing purpose on the reel; Larger spool inner diameter design makes feeding smoother
[ Dimensional Accuracy & Consistency ]

 

-- advanced CCD diameter measuring and self-adaptive control system in the manufacturing guarantee these synthetic polymers of 1.75 mm diameter, dimensional accuracy + / - .05 mm; 1 kg/ spool (2.2lbs)
[ Cost-effective and Wide Compatibility ]-- With over 9 years' 3D filaments R & D experience, thousands tons of filaments output every month, Overture is capable of manufacturing all kinds of filaments in large scale with premium quality, which contribute to Overture filament cost-effective and reliable for most common 3D printers, such as MK3, Ender 3, Monoprice FlashForge, QIDI and more
Share
View full details